"92% of the organisations are either implementing/piloting/ discussing AI, and only 61% of the organisation have their data structured."
Digital Transformation, Digitisation, and Digitalisation are all of them the same? Digitisation or Digitalisation is simply converting information/ data from physical format to digital format. By definition, digital transformation is the adoption of digital technology by an organisation to digitise non-digital products, services or operations.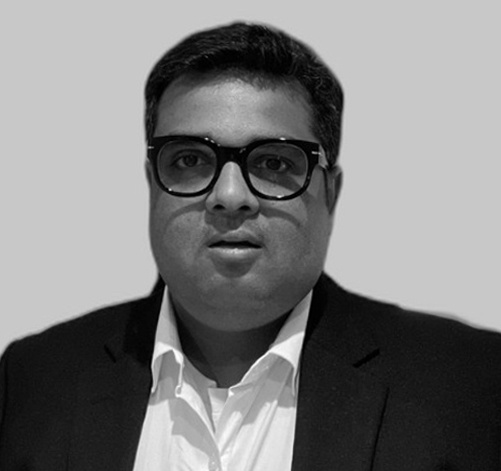 Aniruddha Mehta
Head of Information Technology and CIO
Prince Pipes and Fitting
We started managing accounts in finance books (khatabooks), then we moved excel, then we found Tally and as we grew it was an ERP
That's what most of the organisations are doing and they expect that this will do wonders for business. But does this disrupt the industry positively or change the way you carry out a particular process?
For me implementing an ERP for financial planning is simply a change in terms of the way we carry out business and reduce a dependency risk on people.
Understanding the role of technology in business transformation
Technology does not disrupt business; it's business that brings in the change; technology only eases the way to carry out business; technology lets you concentrate on business rather than using your time and effort on the peripheral details of the company.
Let's take a small example.
You are a great cook, and one Sunday, you want to make a special dish for your family; if we collect the data points here, the inputs to the process would be the raw materials, utensils, cookware, stove, the peripherals would be the clean kitchen, proper/ apt utensils (cooker cannot be used as a frying pan), the correct quality/quantity/specification of input parameters. (There is a difference between the inputs to the process and the peripherals because inputs are just the data points, whereas peripherals are how specific the data points are there).
So, when you start cooking, if you are spending time ordering the inputs/ or searching the inputs or probably. Frying in a cooker, you are compromising on the core cooking area and concentrating on the peripherals. Instead, the outcome will be impacted if all the options are available as an optimum mix. That's where your dish will have the best taste.
It's like using the cloud for your varying hardware needs, and you do not concentrate on the cost optimisation for the business and working around the hardware cost. You work as per your business needs the throttling happens automatically.
Let's now talk about some platform examples: Facebook over Orkut, Ola over Meru or Uber in India, Amazon over Flipkart, and Flipkart over Snapdeal. These are all tech-heavy platforms, but the business model decided their success in the markets, not the technology.
A new lens for technology in digital transformation
Every company is or will be a data/ technology company, and there is no escape from it. Even if you are an IT services or a Product company, look at the differentiator you bring to your customer, as technology can easily be copied, sooner or later.
Businesses should pay attention to technology; instead of heavily micro-managing technology, look at opting for technology as a service that would bring in a humongous amount of value to the organisation.
Digital Transformation should be different from what the definition says but should be more into implementation technology, which would change the business and remove non-value-added manual processes. Like Robotic Process Automation, "Why improve when you can automate?" Today it is easier to automate processes than improve. If I can automate a process, the headache of running the process goes away.
Decoding AI for transformation
What is AI? Have you ever typed the following on google, Scorpio, Duster, Polo, City, Rabit, Carnival? Did google show you the Car or what it was? This would depend on what you have been working on in your digital avatar. If you want to buy a car and have researched cars, this search will always throw up cars for you. That is AI in our day-to-day lives.
There are times when we ignore AI also Google Maps, every time we get into a vehicle, we look at the map to check on the traffic, but we make a decision only based on what route we want to take. The map throws 12 mins+ or checks for a decongested option or similar ETA. This is, again AI in our day-to-day lives.
AI, available today, is more than just predictive AI; the models above are self-learning AI which learns from your behaviours.
Digital transformation and AI: Key statistics
According to Precedence Research, the global edge computing market size is expected to hit around USD 116.5 billion by 2030 and expand growth at a CAGR of 12.46% over the forecast period 2022 to 203
As of 2022, the global AI market is valued at over $136 billion. AI industry value is projected to increase by over 13x over the next 8 years.
The global machine learning market is steadily growing: in 2021, it was valued at $15.44 billion, and owing to the increasing adoption of technological advancements, it is expected to grow from $21.17 billion in 2022 to $209.91 billion by 2029, at a CAGR of 38.8%.
Core digital transformation: Essential guidance for CIOs
Instead of migrating legacy apps to the cloud, organisations will create cloud-like environments on-premise. These would be for data such as (Sensitive Data) Regulatory, Confidential, and Commercials of Public Cloud.
The organisation will embrace redundancy to mitigate continuing outages. Where organisations would go in a combination of the public and private cloud, E.g. Ability, which makes application migration in the cloud a reality while optimising your cost.
Security Experts will continue to miss the mark with ransomware protection.
Cloud-native apps will go to the Edge.
New analytics and streaming APIs will drive next-generation Edge use cases.
Thus, when it comes to digital transformation, I believe, technology would always answer the same business question, but the technologies will be different, not the Business!
About the author
Aniruddha Mehta is the Head of Information Technology and CIO of Prince Pipes and Fitting. He has worked across sectors such as Manufacturing, Pharma, Capital Markets and Banking; at various executive levels in IT Strategy & Operations, Delivery Leadership, Change Management, Team Building, Business Analysis. He is a certified Project Management Professional (PMP) from S.P. Jain Institute of Management & Research. He completed his MDP in Sales Force Management and IT Project Management from IIM-Ahmedabad.