Chennai, Tamil Nadu, India
India's fastest growing startup in the deftech sector, Big Bang Boom Solutions Pvt. Ltd. (BBBS), confirmed its participation for 'Swavlamban', the annual seminar of the Naval Innovation and Indigenisation Organisation (NIIO), scheduled on 04-05 October 2023 at the grand 'Bharat Mandapam' at New Delhi. BBBS will showcase its award winning technologies developed under the SPRINT initiative.
The second edition of NIIO, follows the resounding success of the inaugural edition held in July 2022. The first edition of Swavlamban witnessed the honourable Prime Minister launching the 'SPRINT Challenges' initiative. Under SPRINT, 75 challenges were presented to startups and MSMEs, aimed at fostering the use of indigenous technology within the Indian Navy. The Navy is committed to developing a minimum of 75 technologies and products in line with the 'Azadi ka Amrit Mahotsav' celebrations.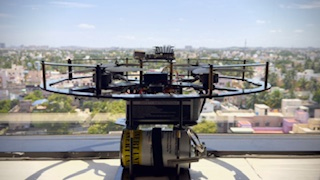 Mayil – BBBS' Autonomous Firefighting Drone developed under IDEX SPRINT
SPRINT, which stands for Supporting Pole-Vaulting in RD through Innovations for Defence Excellence (iDEX), is a collaborative initiative involving the Defence Innovation Organisation (DIO), NIIO (Naval Innovation and Indigenisation Organisation), and Technology Development Acceleration Cell (TDAC).
Speaking about the experience Dr. R Shivaraman the Co-founder, and head of the Research and Product Development at Big Bang Boom Solutions (BBBS) said, "The SPRINT has, quite literally, been a sprint. Things that have been achieved in a few months are unimaginable and will provide a big boost to Atmarnirbharta in Defence in the coming years. It has especially been a boon to startups like us. It is heartening to see that orders are being placed quickly. AONs for Rs 1500 crores is music to the ears of the domestic defence industry. Many more orders are in the pipeline. People are normally wary about entering the defence market because of the long timelines and complex procedures. iDEX and TDAC have shown how this can be changed. This will certainly open more doors in the future and encourage many more startups to consider getting into the defence sector."
Eloborating on the upcoming event, Dr. R Shivaraman, said, "Swavlamban promises to be jam packed exciting two days for all participants. With such a packed agenda to cover, we will have a large presence  at New Delhi so as to not miss out on anything. Of course, the highlight of Day 2 would be the interactive session with industry and interaction with Defence Attaches from over 50 countries. This is not something that small startups can hope for even in mega events like the DefExpo. As a company we already work with clients and partners from the UK, Israel, Finland and Australia. We had also recently been a part of the Ministry of Defence delegation to Israel where we were able to attract significant interest in technological solutions. We are thankful to the Navy for giving us this chance and we hope we will be able to much more international traction after this event."
He further added, "We started Big Bang Boom (BBB) five years back, with an idea to build indigenous deep-tech products in India and were amongst the first companies to jump on the iDEX platform. We were the first company to win challenges, complete trials and successfully get a contract under the now popular iDEX program. Of course, with SPRINT the iDEX scheme has been taken to another level altogether. We have successfully designed, developed and completed trials for several key products such as anti drone systems, situational awareness for armored vehicles and improved fire fighting foam for naval applications. Of course! Massive potential I would say."
Disclaimer: The above press release has been provided by NewsVoir. CXO Digital Pulse holds no responsibility for its content in any manner.