Cyber safety training session conducted for citizens under Delhi Police's Yuva program
Training session to encourage citizens to take action by reporting online scams, fraud and harassment to Delhi Police
Delhi Police, in collaboration with Truecaller, organized a cyber safety training session for citizens, as part of their ongoing partnership aimed at preventing cyber frauds, scams and raising cyber safety awareness among citizens. The CyberWise training session was conducted in Hindi, and focused on empowering individuals under the Delhi Police's Yuva program with essential digital safety skills. The training program included educating participants about fundamental digital hygiene practices, safeguarding personal information online, and tips to avoid cyber scams. Its primary goal is to reduce citizens' exposure to online harm while fostering trust in digital communication.

Ms. Suman Nalwa, DCP & PRO, Delhi Police and Ms. Pragya Misra, Director of Public Affairs, at Truecaller
In addition to raising awareness, the cyber safety training sessions encourage citizens to take requisite action by reporting online scams, spam, fraud, and harassment to Delhi Police.
Sharing her thoughts on the initiative, Ms Suman Nalwa, DCP & PRO, Delhi Police said, "Delhi Police is actively dedicated to increasing cyber safety awareness and empowering citizens to stay safe online. Our collaborative efforts with Truecaller have successfully reduced the impersonation of Delhi Police officials by verifying official numbers through Truecaller's Government Directory Services. Through the CyberWise training sessions, our mission is to provide citizens and young participants of the Yuva Programme with the essential knowledge and skills needed to make informed choices for their protection while harnessing the opportunities in the digital world."
Sharing her thoughts on the partnership, Ms. Pragya Misra, Director of Public Affairs, at Truecaller, said, "We are truly delighted to continue our mission of fostering online safety, with the Delhi Police, in line with the Government of India's aim of making the internet open and safe, trusted and accountable for its citizens. CyberWise has already benefited over 1.6 million citizens nationwide, and we remain committed to contribute towards creating a digitally resilient community that can harness the internet's potential while staying safe from frauds and scams."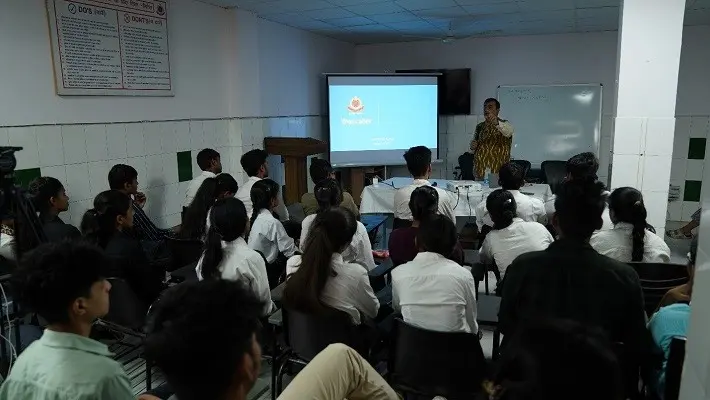 CyberWise training being conducted in the local language to equip participants with online safety skills at the Saket Police Station
As part of the Truecaller & Delhi Police partnership, a variety of initiatives have been conducted to combat cybercrime. These initiatives include a range of capacity-building measures for the Delhi Police, online safety training sessions on emerging cybercrimes, and verifying all official numbers of Delhi Police personnel on Truecaller's Government Directory Services to tackle impersonation.
About Truecaller
We enable safe and relevant conversations between people and make it efficient for businesses to connect with consumers. Fraud and unwanted communication are endemic to digital economies, especially in emerging markets. We are on a mission to build trust in communication. Truecaller is an essential part of everyday communication for over 356 million active users, with more than a billion downloads since launch and close to 50 billion unwanted calls identified and blocked in 2021. Headquartered in Stockholm since 2009, we are a co-founder-led, entrepreneurial company, with a highly experienced management team. Truecaller has been listed on Nasdaq Stockholm since October, 2021.
Disclaimer: The above press release has been provided by NewsVoir. CXO Digital Pulse holds no responsibility for its content in any manner.