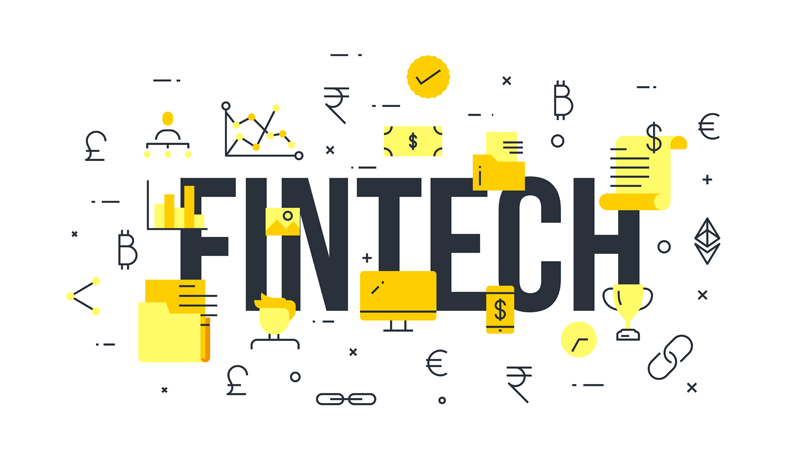 Vietnam's fintech industry attracted an investment of $375 million+ in the year gone by, illustrating the country's potential and focus on becoming a fintech capital for ASEAN. Overall, the fintech adoption has seen a 5X increase over the last 6 years, with opportunities across digital payments, insurtech, wealthtech, P2P lending and much more. Technology integration with financial processes and services has been driven by government regulations, support and proactive approach as well as increasing consumer and business demand and the need to view fintech as a way to redefine financial inclusion with financial innovation. In this article, we will shed light on different aspects of Vietnam's fintech industry, growth drivers, opportunities and challenges, etc.
What's driving FinTech growth in Vietnam?
With 300+ flourishing fintech companies, Vietnam has seen a phenomenal growth in financial innovation over the years. The fintech market is expected to cross the $20 billion mark by 2027, with a growth CAGR of 18%. At the same time, the country has a target to have 50% adults using electronic payment services and 70% of customer transactions through digital channels by 2025.
While global trends towards fintech have sparked the growth, there are several other factors driving fintech development and adoption in the country, including:
Growing digital economy
Overall, the country is witnessing a steep rise in internet penetration and digital citizens, especially with increasing smartphone adoption and use. Some of the key factors include
Growing middle class and e-commerce
Linked to the growing internet penetration and smartphone usage is the second driving force behind fintech growth in Vietnam. The country has recently seen a growth in the middle-class population with sizable disposable income in hand. Increasingly, this middle class is showing an affinity towards e-commerce engagement. As consumers are spending more time on smartphones and e-commerce platforms, the demand for online payment and other digital finance services is on the rise, giving a boost to the fintech industry.
Government's proactive support
Based on increasing demand coupled with the impact of fintech on the economy, the Vietnamese government has been proactively supporting fintech innovation with progressive policies and regulatory frameworks. Some of the top government interventions include:
Establishment of a Steering Committee on Financial Technology to build a regulatory framework for creating opportunities for fintech companies, supported by a robust ecosystem.
Approval of the development of cashless payments, a five year plan to facilitate safe, secure, confidential and accessible cashless payments.
Establishment of a regulatory sandbox, granting regulatory exemptions to certain fintech companies to test and develop new products across P2P lending, payments credit, and consumer identification, etc.
Tech oriented futuristic focus
Finally, the country has adopted a forward looking tech enabled approach towards all its efforts. For instance, ICT and STEM courses are being introduced in schools along with computer science to facilitate students have basic programming skills by fourth grade, creating a generation of consumers and businesses who are digital-natives and aligned with financial innovation.
Furthermore, the country is offering visa requirement relaxations and tax incentives for Vietnam dual nationals, inviting Vietnamese fintech experts from aboard to promote home country growth.
Thus, a growing digital native population base, government commitment and overall digitally thriving ecosystem are driving fintech growth in the country.
Vietnam's FinTech Market: Key Applications
As a field, fintech is quite expansive and deep in scope. There are several applications or areas within fintech which have seen exceptional growth or are showing potential for growth in the country, like:
Digital Payments
Undoubtedly, one of the top segments in fintech in Vietnam is digital payment, accounting for 85% of the market share. Invariably, this growth was sparked by the need for digital and cashless payment with the pandemic by consumers and businesses. At the same time, digital payment solutions like mobile wallets, etc. also saw an increase as investors started becoming risk averse and digital payment solutions offered resilient and in demand investments.
Insurtech
The entire insurance industry relies a lot on data about the insured, including demographics, consumer behavior, medical history, etc. Insurtech as a sub component of fintech allows insurance to be more flexible and variable than traditional options. With the insurance market growing steadily, insurtech is likely to see a surge in demand and adoption.
Wealthtech
With a rising middle class and interest in investments and wealth creation, wealthtech is likely to see a boom in the fintech sector. Investment apps in Vietnam have seen great investor interest in recent times and financial institutions are increasingly exploring ways to employ technology to supercharge their offerings and enable their consumers to build and sustain wealth.
Personal and corporate finance
The fintech market has also seen an increase in personal and corporate finance with P2P lending by fintech companies. This is increasingly becoming a sought after mechanism of procuring loans that come at a relatively lower rate as compared to conventional banks. There are several reasons guiding this growth.
For personal finance, P2P lending enables online personal loan options to individuals who may not have a bank account. Research shows that 79% of people from Vietnam lack access to formal financing options. Increasingly, it is a way for individuals to secure personal finance at their fingertips, across fund transfers, loans, etc.
For corporate finance, P2P lending by fintech firms acts as a boon for small businesses who may lack assets to serve as collateral for securing capital. In fact around 60% of small businesses in Vietnam struggle with securing loans due to lack of assets.
The growth in P2P lending is likely to increase through the years, with an estimated growth of 31% for personal finance and 35% for corporate finance fintech solutions by 2025.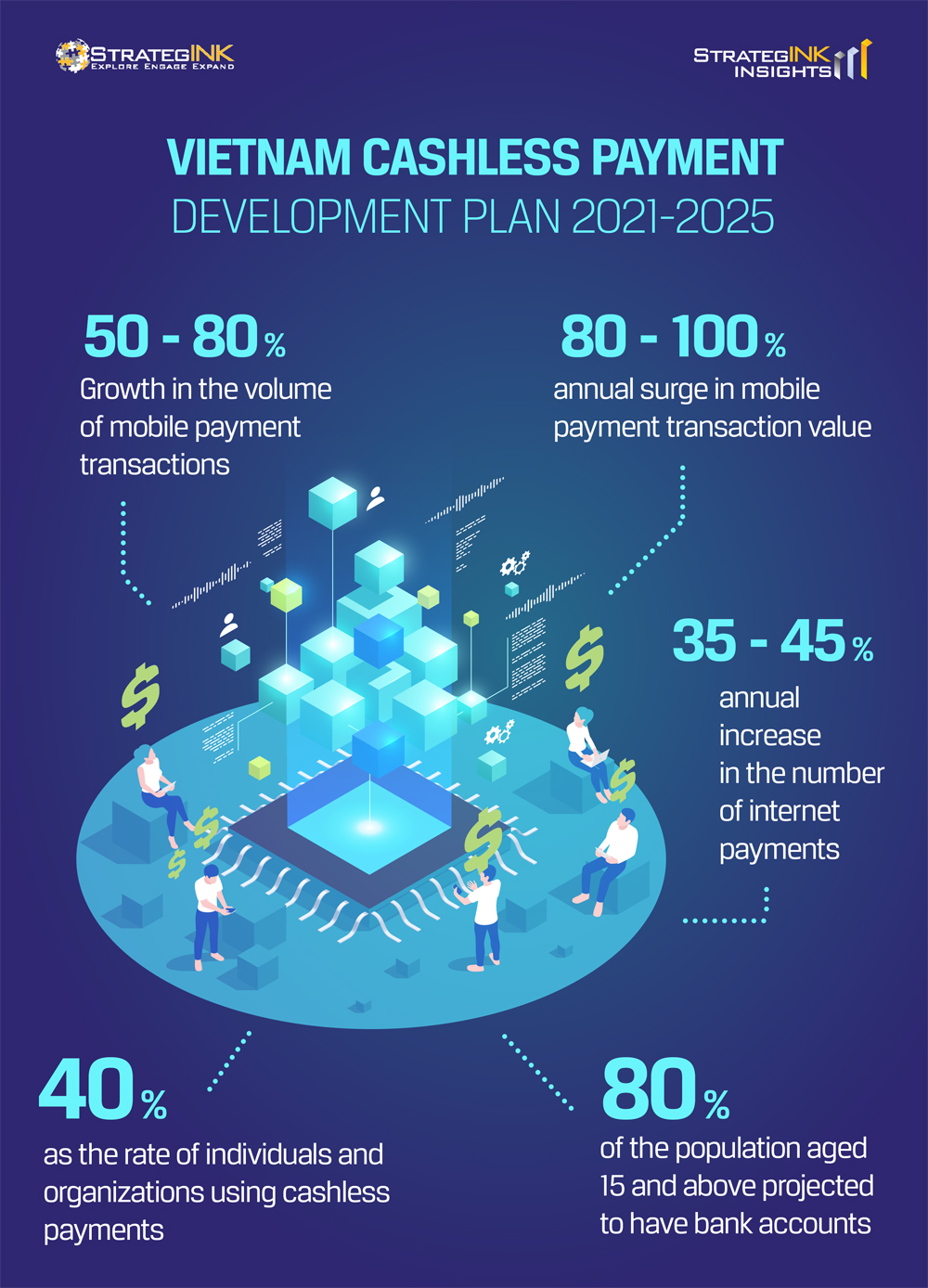 Vietnam Cashless Payment Development Plan 2021-2025
With digital and cashless payments accounting for the majority stake in the fintech market, the government of Vietnam is focusing on concentrated efforts to promote the same with a few concrete targets by 2025:
FinTech risk mitigation and way forward
As an financial innovation, fintech comes with its set of risks that businesses and citizens need to be cautious about and mitigate them from the very beginning with stringent regulations, public awareness and a commitment to safety and transparency, including like security and data breach, money laundering and financing of terrorism, high intermediary fee, etc.
Fortunately, the government already has in place certain regulations and others are underway like adequate risk management framework that protects service users, comprehensive reporting of organizations participating in the Fintech Regulatory Sandbox, clear responsibilities for state management agencies in the processes of receiving, appraising, and evaluating registration applications for testing and implementation, etc. The overall government and business environment in Vietnam is conducive to high growth for the fintech sector with great opportunities owing to upcoming technologies like Blockchain, Cryptocurrency, Robotics, AI/ML and advances in Cybersecurity.
For more updates on fintech in Vietnam and other ASEAN countries, stay tuned to this space.